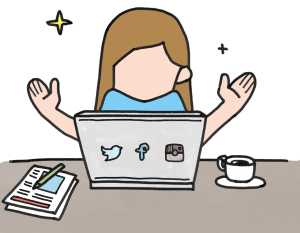 Beginners Guide To Twitter
In 2006, no one had ever thought that 140-character chatter could be a overnight sensation. From common people to not-so-common people, from least powerful to the most powerful – everybody seems to be on Twitter.
With more than 300 million users, twitter is one of the biggest place to market your business. Almost every small business can benefit from here.
Though many businesses open their Twitter account only to leave it dormant a couple of weeks later. Because Twitter is hard – at least in the beginning. That's where our beginner guide to Twitter comes in! It has everything to get you up and running. And it all begins with making your profile in the right way – our beginners guide to twitter starts here!

Our top 5 tips to conquer twitter the right way!
Bio, website, and a Cover photo – Build your complete Profile
On Twitter all you need is an email and a password. And that's the very reason, you might see profiles that seem more of an abandoned house. No bio, place or a website. Your profile is people's window into your business, so you'd rather make it good. What benefit is a lot of followers, if all they're going to be lead into is your skin-and-bones profile?
In short – when you build a twitter profile, make sure it's complete. Be it your profile picture, or your bio and Website – don't leave a place blank.
Start following relevant people
Needless to say, don't waste your time following Eminem and Rhianna if they aren't relevant to your business instead search for influential people in your niche, and start following them!
And with people tweeting about every nifty detail about their life, you can easily find relevant people! Just search for business-related keywords, and you'll immediately have a big heap of relevant people you can follow and begin to engage with.
Try being authentic and helpful
The most common factor in most successful accounts on twitter is: they're honesty they to add value through their tweets. Make it a rule to only have 10-percent of your tweets as promotional. The other 90-percent should be great re-tweetable content.
Other than that – Use images to create more impact, tweets with images generally get 30 % more attention than tweets without one. In a website of 140 characters, a pictures speaks a thousand words!
Get used to Hashtags
Indeed, hashtag is the hero – not merely a passing teenage trend. Hashtags connect a large array of tweets that have a #hashtag common in them. You can use them to tag your own posts, so they're easily searchable.
Other than that, search for relevant hashtags in your business. This little search will show you tweets from thousands of your potential customers. Scan them for tweets you could add value to, and reply to them. Connecting with potential customers has never been easier!
That's our primer for our beginners guide to twitter. These tips, and a little work, will get your Twitter page followers in no time. And while this is for the beginning, there all countless advanced tips you might need for further growth. A good example would be tracking your stats or organizing contests.
For now, go, and get started on Twitter!