Website Bounce Rate – So what exactly is it?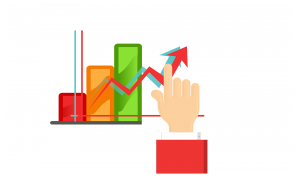 In this blog post we'll be showing you 5 ways in which you can reduce your website bounce rate but first things first – what exactly is a website bounce rate?
Your website bounce rate is the number or percentage of visitors who leave or bounce from your website after just landing on the first page.
More often than not it's expressed as a percentage and provides a key insight into just how well or not so well your website is performing!
While a low website bounce rate will indicate that the visitors to your website are happy enough to look beyond the first page, a high bounce rate can indicate a problem so if you're serious about paying attention to your website traffic it's a good idea to keep a close eye on this.
5 Ways To Lower Your Website Bounce Rate
Clear Navigation – If a user lands on your website and can't find what they are looking for, there's a good chance that that they won't spend a lot of time (if any) looking and move onto a different website with navigation that's clearer. Not sure if your website navigation is up to scratch? Put yourself in a visitors shoes – is your website easy to navigate both on a pc screen and mobile device?
Call To Action On Landing Pages – Ensure that your landing pages have a call to action or purpose for your website visitors. Think contact forms, videos, shop now etc. This is one of the highest reasons your website bounce rate may be high – confusing your visitors is a definite no-no!
Flowing Content – is your website content easy to read? large chunks of text can seem off putting to first time visitors to your site. Make your content easier to read with short paragraphs of text or bullet points. The majority of readers will scan over your text so ensuring it's easy to read is essential! Take a look at the flesch reading score for a further insight!
Responsive Design – Whilst your website may look amazing on a pc or laptop, how well does it view on a smart phone screen? Visitors to a website that isn't responsive will spend time 'pinching the screen' and struggling to view the site the way it should be – this is extremely off putting not to mention time consuming!
Slow Site Speed – The load of speed of your website can have a massive effective on your website bounce rate especially when it comes to visitors viewing the site via a mobile device. You can check your website load speed using this handy tool from Pingdom
Worried about the your website bounce rate? Every site we design undergoes extensive testing to ensure all aspects are spot on – want to know more? Drop us a line via our contact form.