Web Design
With 80% of people using smartphones to search the internet, responsive web design is a must – each website we create is fully responsive and tested.
Logo & Branding
Need a new logo or complete branding for your business? We have a keen attention to detail and are well known for our eye catching designs.
Graphic Design
High quality, custom design – no crappy clip art, naff gradients and dodgy drop shawdows straight out of the 90's (unless that's what you want?!)
Copy Writing
Professional, informative, written copy that converts well. Copy that grabs users by the danglies. Not copied - all unique. Copy that?
Explainer Videos
Simple, affordable and very effective for many different types of businesses and are a solid investment if you're serious about making an impact with your marketing efforts.
Special Events Ads
We've hit upon a winning formula for running Facebook ads that convert like crazy for certain business types and are now proud to be able to provide this as a service to relevant businesses.
Reputation Boost
Every business owner knows that reviews can make or break a business. Not everyone knows how to get positive reviews. We can help with that.
Social Media
Why not let us manage your social media platforms and take a bit of that pressure off? Our social media management service is fairly priced with no long term contracts.
SEO
Our affordable SEO (Search Engine Optimisation) services will ensure your website is ranking organically on all the major search engines.
1. Meet
Make an appointment to chat to one of our Liverpool web design team over the phone to discuss your project in more detail. We can also arrange a meeting at our office if you'd prefer to discuss your project in person. The tea or coffee's on us!
2. Plan
After our call or meeting, we'll research your business sector & your competitors, then create a unique, tailor made proposal based on your requirements and ideas, including different options available to you.
3. Implement
Once you're 100% happy with the planned proposal, we'll get to work on your project and keep you updated on our progress. For websites, we'll give you access to view your site in real time while it's under development.
4. Test
Websites undergo rigorous testing to ensure they're fully functional and responsive on all devices including mobiles, tablets, laptops and desktop computers. Logo/graphics won't be finalised until you are 100% happy!
5. Deliver
Once the project is complete and you are 100%, we'll take the final payment then hand over your new site (or logo/service.)  Websites come with full access and documentation including written and video tutorials.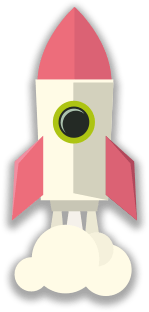 what are you waiting for?
We'll Help Your Business Blast Off
Through Creative Ideas, Design, Innovation & Sheer Determination!