We've helped hundreds of businesses launch and get noticed online, but also maintained an outstanding customer service record with almost all 5 star customer reviews.
Apart from our very competitive prices, we put our consistently high ratings down to the fact we get to know all of our customers very well and we treat their businesses as if they were our own – our success relies heavily on our customers' businesses also doing well – when they do well they're quick to recommend us and and also come back to us when they need further help as they know they can rely on us.

"I am in the process of starting my own business and i did not know where to start with regards to a website, logo and labelling. I came across The Cheerful Lime and noticed they had very positive reviews. I now know why, Steve has been amazing in helping me with my branding and I am over the moon with my logo, website and labels!
He always delivers on time, very friendly and is patient. I could not have done anything on this scale without The Cheerful Lime and it was worth every penny.
Very supportive and professional company, would not hesitate to return for future projects!
Thank you The Cheerful Lime!"

Melissa Pattie
Skinny Palm Tree

"Have been with the Cheerful Lime for more than 5 years and am really pleased with our cooperation.
Professional, responsive, helpful, Steve and the team have designed my website and have been providing maintenance for all these years.
The best investment in my business. Can not recommend enough!"

Svetlana Faulkner
Present Perfect Creations

"I would highly recommend The Cheerful Lime, in particular Steve, for delivering our bespoke website to our exact brief requirements within our agreed timescales.
Steve was helpful throughout and was quick to respond to our design and content amendments. We are delighted with the finished product."

Sam Tumilty
Urban Evolution

"I had Steve create my website for me when I started up my cleaning company . Service was spot on from start to finish and Steve was and still is always on hand to assist with any questions I have.
Steve is a true professional and gives and honest opinion at an affordable price, thanks again Steve."

Danielle
E and H Cleaning Service

"Cheerful lime created my beautiful website for me and continue to maintain it. Nothing is too much trouble for them… Steve always takes the time to explain how to do whatever I need or he does it for me if it's too tricky. Very reasonable pricing. I'd be lost without them."

Alex Lavin
Zac & Lily

"I discovered the Cheerful Lime after having a really bad experience with another web design company. Steve and team at the Cheerful Lime treated us like royalty!
Lot's of personal attention – bending over backwards to help. I absolutely depend on them now. They deal with every piece of work promptly and professionally and they are so low-cost it's crazy!"

Caroline Cutress
Maths Club By Post

"Steve has designed my website and has been providing maintenance for it. Steve is very helpful, professional and was quick to respond when I had some issues with my website.
I know I can always rely on them. I am very happy with the service and can highly recommend the company!"

Diana
Nomass Health

"Steve always responds quickly to any emails I send him. My website is always up to date and I can't fault this company in any way.
If you are looking for a professional and friendly company to build and maintain your website then I can't recommend them enough"

Jo Wildman
Foam Wedding Flowers

"Absolutely brilliant service , always happy to help and I can't thank them enough for our website design and keeping our website updated."

Jackie
Jack's Embroidery

"The Mersey Youth Support Trust Charity used The Cheerful Lime to design our web site and we are very happy with the result.  It is a very clear and concise web site and is certainly getting the Charity noticed.
Steve and Laura, the two owners, are great to work with and as long as you provide them with the information they require from you when it's needed they will always make a massive effort to deliver on time.
Having had very some bad dealings with other web designers letting us down at every twist and turn and blaming everyone bar themselves, it was satisfying and reassuring to find a company that delivers what they say they will, on budget and when it is needed.
We, as a Charity, wouldn't hesitate to recommend The Cheerful Lime to any business – from start up companies to larger organisations that need a first class service for a competitive price the Cheerful Lime will go the extra mile for you."

John Kelly
MYST Charity Trust

"After a bad experience with another company i asked Steve to look after our Business website: AOK Digital and Security Solutions. Our site has been with Steve for a few years now and we have had no issues, if we require any small changes they are done quickly and he is very easy to deal with.
You will get simple straight forward answers to any questions and costs are very reasonable. Definitely recommended."

Alan O'Keefe
AOK Digital and Security Solutions

"I found Steve very professional in his approach to our website criteria, he helped with all aspects of the design, the logo and the ongoing maintenance. He is also very reasonably priced, I would not hesitate to recommend him."

Lionel Horwich
Ormskirk Student Accommodation

"Steve and the team helped us out after are previous hosting and website company let us down.
We have been impressed with the technical support and excellent advice offered.
We recommend Cheerfull Lime for any company with any I.T, Internet or Website requirements."

Bill
Red Squirrel Storage
We pride ourselves on our
outstanding customer service
From the first point of contact, our dedicated and friendly team will be on hand to offer advice and guidance when you need it most. We are always open and transparent with how we work and we'll always try to explain plans and processes in simple terms so you know where we're up to and what to expect.
Our design team are full of bright ideas, incorporating your requirements to create the perfect online platform for your business.
We deliver projects on time every time, working to deadlines to ensure your website is fully tested & ready to launch when you are.
We're well known for our affordable web design, logo design and marketing solutions... ideal for start ups and small businesses.
1. Meet
Make an appointment to chat to one of our Liverpool web design team over the phone to discuss your project in more detail. We can also arrange a meeting at our office if you'd prefer to discuss your project in person. The tea or coffee's on us!
2. Plan
After our call or meeting, we'll research your business sector & your competitors, then create a unique, tailor made proposal based on your requirements and ideas, including different options available to you.
3. Implement
Once you're 100% happy with the planned proposal, we'll get to work on your project and keep you updated on our progress. For websites, we'll give you access to view your site in real time while it's under development.
4. Test
Websites undergo rigorous testing to ensure they're fully functional and responsive on all devices including mobiles, tablets, laptops and desktop computers. Logo/graphics won't be finalised until you are 100% happy!
5. Deliver
Once the project is complete and you are 100%, we'll take the final payment then hand over your new site (or logo/service.)  Websites come with full access and documentation including written and video tutorials.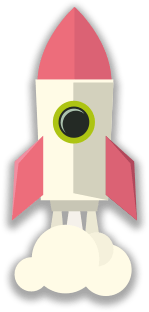 what are you waiting for?
We'll Help Your Business Blast Off
Through Creative Ideas, Design, Innovation & Sheer Determination!