Why is Responsive website design so important to your business?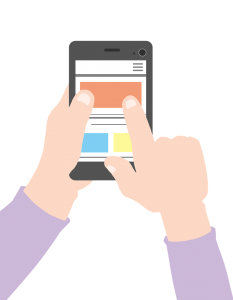 What is responsive website design?
Responsive website design allows the layout of the site to adjust to the screen size it's being used on. For example a user viewing a website on a desktop PC or laptop will see a different layout to those viewing on a tablet or smartphone.
A responsive website will recognize the device the user is viewing the website from and adapt accordingly.
How important is responsive website design for my business?
With more and more people using smart phones and tablets to access the internet and major search engines a responsive website design has never been more important as the level of internet traffic from these devices continues to grow! Over half of all web traffic now comes from smart phones and tablets yet there are still many website out there that aren't responsive and require the user to 'pinch' the screen to find what they are looking for!
Why do i need responsive website design?
User experience – A website that looks amazing on a large desktop screen may not be so easy or attractive if its not responsive. Text may be tiny, images may not fit properly and overall the site could be difficult to navigate which could result in the user going elsewhere to find the product or service they are looking for.
SEO – Search engine optimization experts will advise you that changing your website to a responsive layout will without doubt have a positive influence on driving more traffic to your website. You may of heard of the search algorithm back in April last year Mobilegeddon ? Now major search engines favor website that are optimized for mobile use and the mobilegeddon algorithm had a significant impact on how websites are ranks in the search results on smart devices and other search engines have followed
Improve your time management – there are some companies out there who have to find the time to manage two company websites! One that can be viewed on a desktop and the other optimized for viewing on a smartphone or table. Sounds like a nightmare to us and it means double the work required for maintenance and development! But that's not all – it also confuses the search engines which then go on to treat them a different entities. One well designed responsive website is easier to maintain for content and seo!
Lower bounce rate – A website that is faster and easy to navigate encourages visitors to browse and engage for longer periods of time. A responsive website design and user friendly navigation reduces frustration, keeps interest and reduces those all important bounce rates! Something else to think about when it comes to bounce rates is the sites load speed –  a responsive website design will be faster to load especially on mobile devices. By adapting to the screen it's being viewed on and delivering each component in it's intended form means it reduces the time taken for the site load.
Is it time your website was updated? We're Liverpool's most affordable web design and marketing agency. Contact us here to discuss your next project.