Have You Noticed The New Twitter Connect Tab?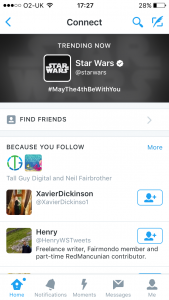 If you've recently logged into Twitter from your smart phone or tablet you may have noticed the new twitter connect tab – read the official announcement here.
Designed with the user in mind, it aims to make searching for new and relevant accounts easier – you'll find it available on both android and IOS apps and once you've carried out the last update you'll see a small blue prompt in the left hand side of your twitter home screen, next to the add friend button.
So what does the Twitter Connect Tab actually do?
 Taking the most prominent position at the top of the screen you'll see 'trending now' which will automatically move across to show you those accounts and hashtags that are currently making waves in the world of twitter.
Recommended accounts are based on those that you follow, people you may know, based on your activity and popular near you.
Twitter has promised to refine the new feature over time to give users the best possible recommendations.
Our verdict?
We're all for making new friends and connections on social media and with Twitter being one of our favourite platforms to network on we think this is a great move from Twitter – although at the moment it's only available via the app we're sure over time it will find it's way to the desktop.